The JMJWO 2018 European Tour is Almost Here!
Check out our video and get excited about our Balkan tour!
In July 2018 the JM jazz World Orchestra will bring the global future of jazz music to the Balkans for it's 7th European tour.
Young musicians representing 12 different countries and and 6 different continents will tour Macedonia, Bulgaria, Croatia and Slovenia led by internationally acclaimed US trombonist, composer and educator Luis Bonilla.
As ever this project will deliver both artistic excellence and intercultural exchange. The musicians selected show the highest promise and passion for their art and will light up stages across South Eastern Europe.
To give you a taste of what is to come, check out a little video made in Croatia last summer featuring the JMJWO and a handful of very special guest artists.
And if you are excited by what you see, please support us by donating to our crowdfunder. Your donation (no matter how big or small) will go towards helping our musicians cover the cost of their travel this summer.
Support jazz, support the JMJWO!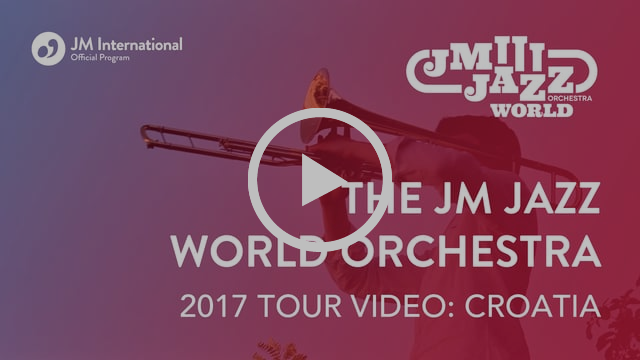 Meet the Musicians
Saxophone Section

Alto: Efren Pons Ramirez (CU/ES)
Alto: Frank Talbot (NZ)
Tenor: Ori Jacobson (DE)
Tenor: Adalberto Perez (MX)
Baritone: Lauren Wood (US)

Trombone Section

Trombone: William Duffy (US)
Trombone: Beserat Tafesse (US)
Trombone: Armando Vergara (US)
Bass Trombone: Siyasanga Charles (SA)
Trumpet Section

Trumpet: Fareed Simpson Hankins (US)
Trumpet: Benny Troschel (DE)
Trumpet: Valdemar Kušan (HR)
Trumpet: Pongsakorn Lertvanitsutha (TH)
Rhythm Section
Guitar: Mindaugas Stumbras (HU)
Bass: Hamish Smith (NZ)
Piano: Carlos Pascual Cippelletti (ES)
Drums: Szecső Szendrődy (LT)
Percussion: Enrique Serrano (PR)
Luis Bonilla: Artistic Director

The JM Jazz World Orchestra continues to thrive under the mentorship of Luis Bonilla, who returns for his fourth season as Artistic Director.
The US trombonist, composer and educator is an internationally recognised force in many musical worlds. He was mentored by the great Lester Bowie during his time as trombonist in Bowie's Brass Fantasy. He has played as a member of the Vanguard Jazz Orchestra, the Afro-Latin Jazz Orchestra under Arturo O'Farrill, the Mingus Big Band and in Dave Douglas's Brass Ecstasy. As a sideman Bonilla has worked with the likes of McCoy Tyner, Dizzy Gillespie, Tom Harrell, Freddie Hubbard, Astrud Gilberto, Willie Colon and Toshiko Akiyoshi.
As a composer, bandleader and recording artist, Bonilla's records have been praised by major jazz publications, with 2010's Twilight (Planet Arts) described by All About Jazz as "a well-balanced feast for the aural senses". In the pop world, Bonilla has recorded and toured with such icons as Tony Bennett, Alejandro Sanz, Diana Ross, Marc Anthony, La India, Mary J. Blige and, most recently, Phil Collins on his European and Latin American tours.
On top of this Luis Bonilla has worked in music education at such institutions as Temple University, the Manhattan School of Music and the New England Conservatory. His dedication to the JM Jazz World Orchestra again demonstrates that, as well as having worked alongside some of jazz's historic greats, Luis Bonilla is committed to nurturing its future.
Read more about the JMJWO, listen and watch our videos at jmjazzworld.com!
Interested in some of these?