Musik i Tide festival 2017 and 25 years of LMS school concerts
Europe's largest forum for young audiences music concerts, celebrates the 25th anniversary of LMS
This year Danish Musik i Tide Festival, Europe's largest forum for young audiences music concerts, is going to be something out of the ordinary! From September 24th to 26th the festival sets the frame for the LMS - Levende Musik i Skolen 25th anniversary celebration.
From two persons at the office, eight music groups, and 104 young audiences music concerts in 1992, LMS has grown to be the national Danish development agency and creative lab in the field of professional music for and with children. The office in Aarhus now seats ten people, and each season around 100 music groups play 2500 concerts for school children all over Denmark. All 25 years with Ebbe Høyrup behind the wheel.
It's an achievement to be proud of, and the anniversary will be celebrated at Musik i Tide festival 2017 with prominent guests, a blast of an opening, and the urban space of beautiful Soenderborg will be involved in the festivities with musical soundscapes and large hot spot tents with different music activities for the school children in the municipality.
We look forward to seing many partners from in and outside the country.
Save the date - 24th-26th September 2017 - and register by sending a mail to Ebbe Høyrup at ebbe@lms.dk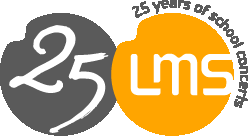 Interested in some of these?