YO!Fest 2016: The Emerging Bands Contest is back!
YO!Fest is the annual youth festival organised by the European Youth Forum that combines politics, debates and workshops with live music and a variety of artistic performances, creating the perfect mix for an enjoyable and meaningful experience. This year's 7th edition of the event will be held in Strasbourg from the 20th to the 21st of May 2016 in conjunction with the European Youth Event (EYE). Once again the European Youth Forum has partnered up with Jeunesses Musicales International (JMI) to bring you the YO!Fest Emerging Bands Contest (EBC) that will give two lucky young European bands the opportunity to showcase their talents and open for a major headliner.
The YO!Fest Emerging Bands Contest is aimed at bands with up to 8 members who all must be between the ages of 18 and 30 years and come from the EU28, EFTA (Iceland, Liechtenstein, Norway and Switzerland) or candidate countries (Albania, FYROM, Montenegro, Serbia and Turkey). Bands should play a genre that is widely accessible (ie: Electro/Indie/Pop/Ethno/World/Reggae).
The winning bands will get the opportunity to perform in front of thousands of young people from all over Europe and open for the headline performers of YO!Fest 2016 (TBC). Previous headliners include Massila Sound System, Puggy, Alpha Blondy, I'm from Barcelona, Babylon Circus, Hot Chip and Ojos de Brujos.
Bands must submit their entries online by the 15th of March and will be notified by the beginning of April whether they or not will be going to Strasbourg. Travel costs of the winning bands to/from Strasbourg, local transportation, accommodation and food are covered, as well as a €50 per band member.
To enter the competition and for more info visit the official YO!Fest EBC 2016 website: www.yofestebc.eu.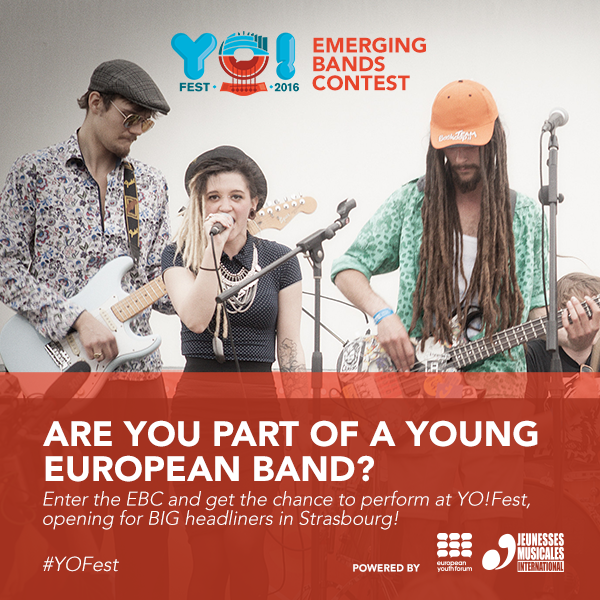 The YO!Fest EBC 2016 is organised by the European Youth Forum and Jeunesses Musicales International, in the framework of the European Youth Event, in partnership with the European Parliament and hosted in the city of Strasbourg.
Interested in some of these?