Get your instruments ready for a Mediterranean summer of folk at Ethno Catalonia 2017!
Ethno Catalonia is welcoming musicians aged 18-30 to an unforgettable week at the scenic Mediterranean music camp of Banyoles (near Barcelona) between the 7th and 17th of July, with a four-day tour at major festivals like Pirineos Sur!

It its second edition, Ethno Catalonia will increase the number of participants to 40 young musicians, coming from all over the world, to share traditional/folk songs with one another, learn, jam, rehearse and arrange a repertoire to perform at a final concert tour.

Musicians will engage in a full program of activities at the Catalonia Ethno camp, which creates a festival for the community at the bustling historic centre of its base-camp, the picturesque town of Banyoles, at the shores of a beautiful lake.
Besides learning and sharing at the the main daily music workshop sessions conducted by artistic leaders, Pau Baiges (Catalonia, accordion) and Håvard Enstad (Norway, cello), participants get to learn traditional Catalan and Spanish music (rumba, sardana, flamenco), perform at a local Folk dance festival on the first night, play individual gigs downtown, attend festival concerts, jams, a dance-night, cultural tours and of course... swim in the lake!
The final concert tour begins on day 7, when musicians embark on a journey to perform four concerts at some of the most well-know local and international summer festivals in the region. The last concert will take place in the main square of Banyoles for the grand finale, which had 30 musicians from 20 different countries on-stage at Ethno Catalonia 2016.
Applications for Ethno Catalonia's Folk, Traditional and World Music Camp, Festival & Concert Tour are open still open, with limited spaces left, so apply now!
You can check out videos and clips of Ethno Catalonia on the the JM Catalonia YouTube channel.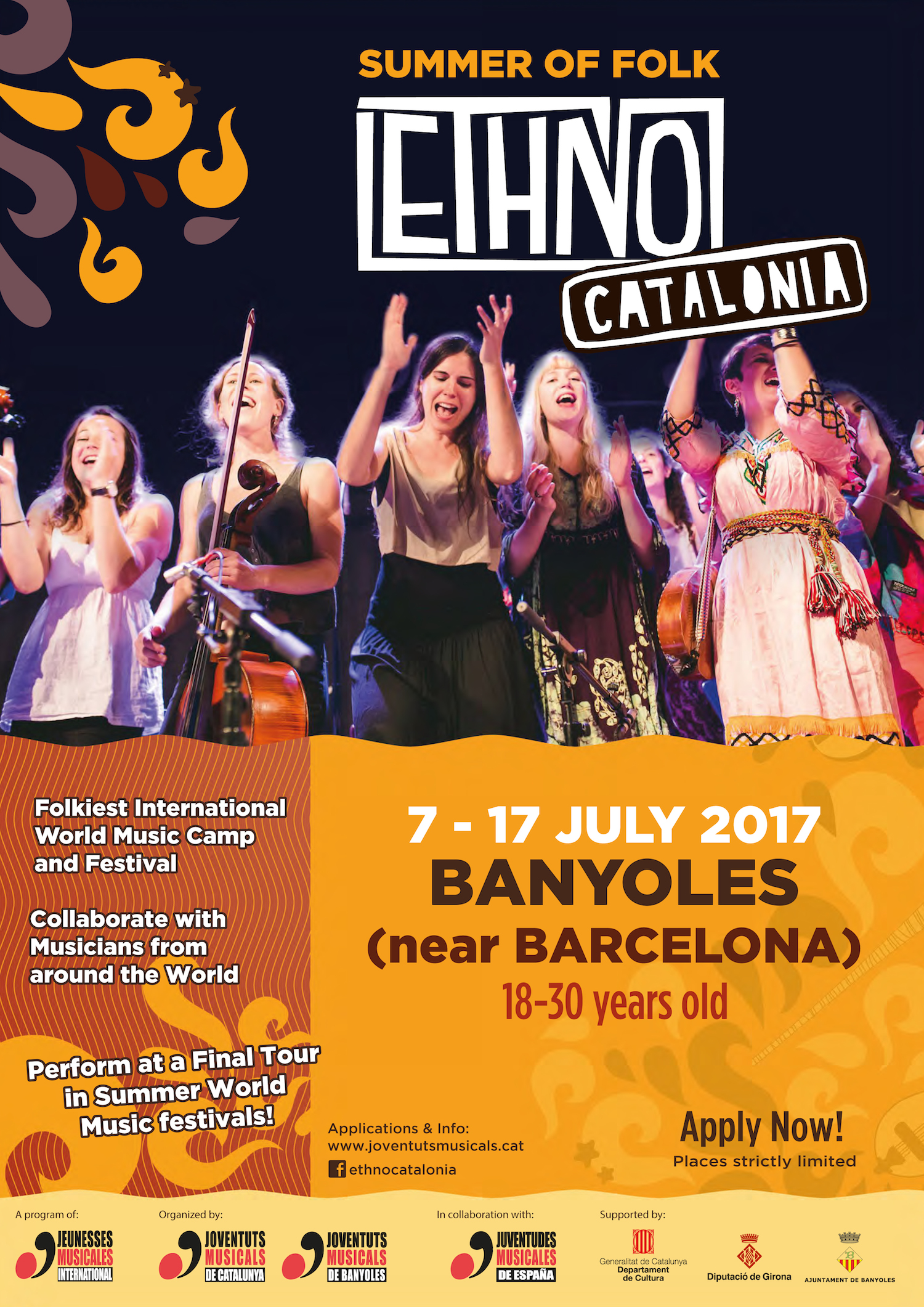 Interested in some of these?