An uncertain future:
Finding new ways with music.
As is the case with everyone working in the performing arts sector, the COVID-19 crisis has deeply impacted the work of JMI, our members, programs and community. With funding cuts, all live gatherings and shows being postponed or cancelled and some predicting that global travel restrictions will be in place until the end of 2020, this historical challenge has required us to research and reflect deeply on what the future of youth, indeed all, music will look like.

If we had to sum it up, the question that has been most on our minds and in our conversations is "What can music do?" While we don't have definitive answers right now, we can share some of our findings.
An uncertain future for musicians, music organisations and activities.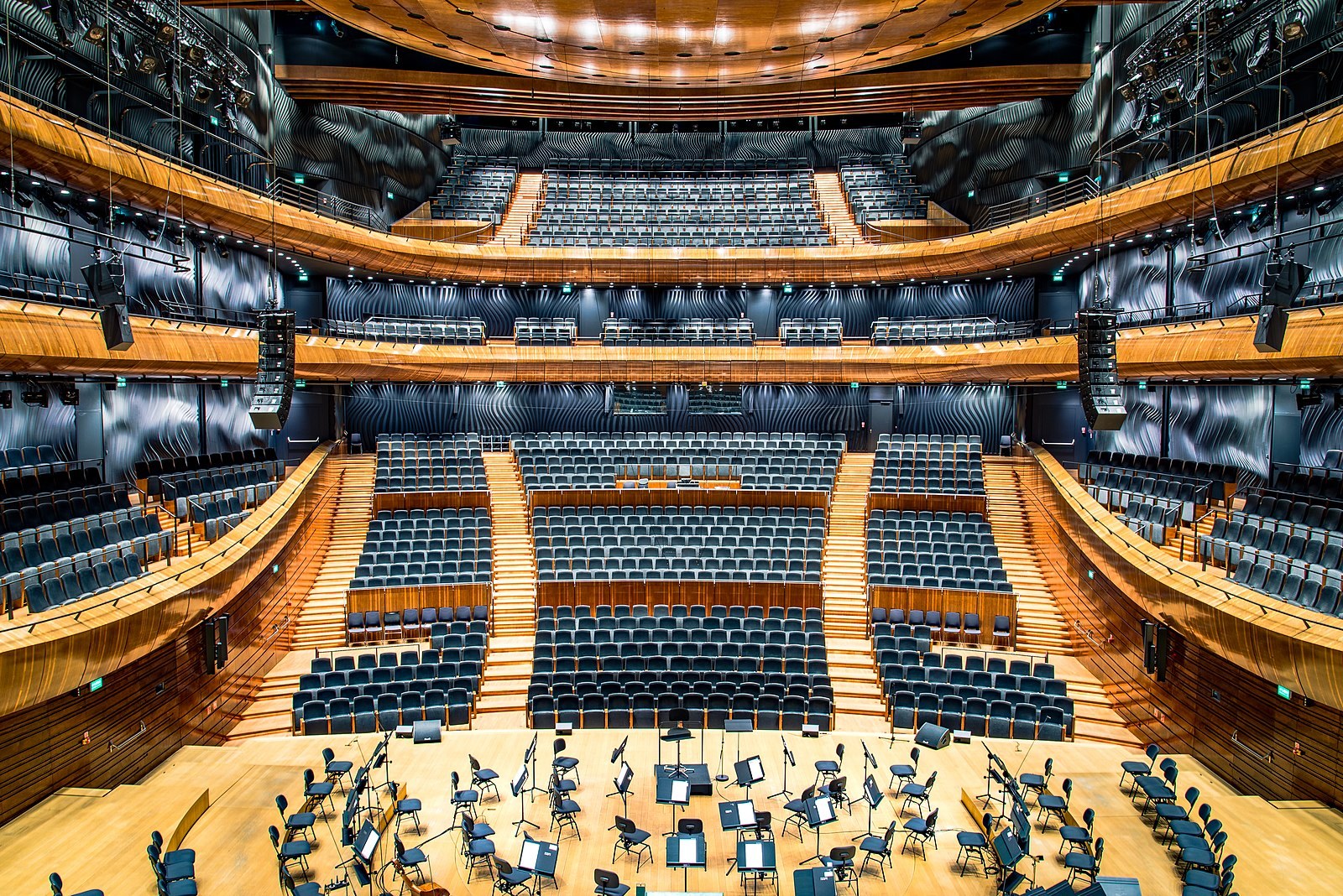 Empty concert hall in Katowice, Poland

The music industry, hyper-connected, synonymous with global mobility and large audiences, is now on hold. The places where we usually experience live music are now out of bounds, 128 countries in the world have closed all cultural institutions. Events are being postponed or cancelled and artists, who heavily rely on live performances as their primary source of income, are losing their livelihoods. Experts project that the live entertainment industry will lose billions.
Recent feedback from our members across the globe confirms this. Across our 48 member countries, only 23 governments (less than 50 percent) have put financial support measures specific to the cultural sector in place.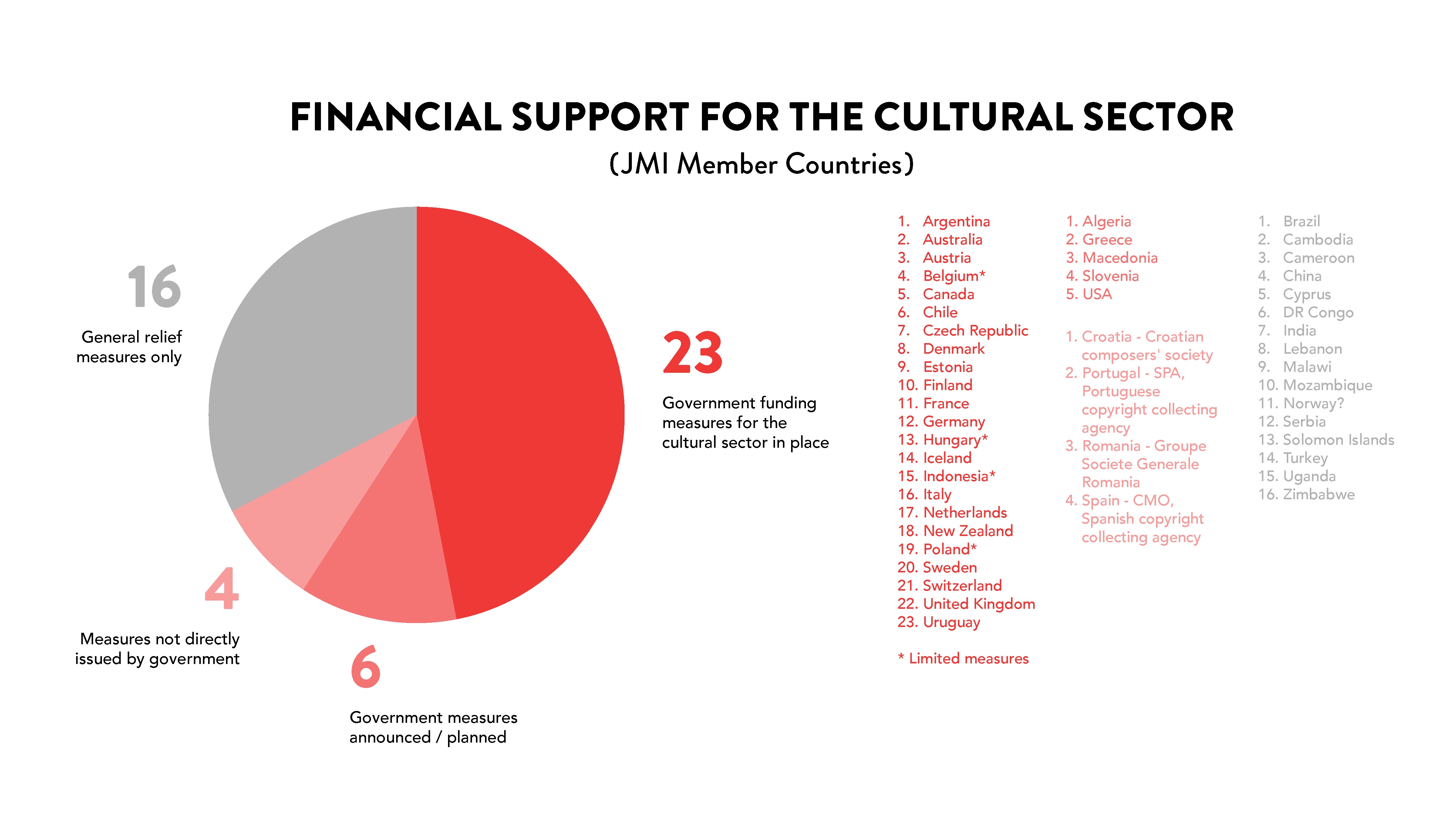 Overview of support measures in place across 48 JMI member countries

It's also important to note that while some governments are stepping up support, the general perception is that most of their measures are nowhere near adequate, as many cultural institutions are seeing funding cuts anywhere up to 80% (with an average loss of 43% reported).
"The Coronavirus is having a devastating economic impact on the cultural and creative sectors." - Mariya Gabriel, European Commissioner for Innovation, Research, Culture, Education and Youth
The figures that follow are just a snapshot of financial losses in the music and cultural sector, but help us to visualise the extent of losses worldwide:
| | |
| --- | --- |
| Australia | 255,000 cultural events have been cancelled with an estimated revenue loss of $A 280 million (~ 168 million €). Opera Australia – the nation's largest performing arts company – temporarily stood down nearly all its staff amid speculation it would also need to sell major assets in order to avoid bankruptcy. In mid-April, the Melbourne Symphony Orchestra fired all of its musicians "rather than honouring an agreement that would have kept them on the books on half pay". |
| Germany | The center for cultural and creative industries in Germany said the cultural sector could lose up to 28 billion € as a result of the spread of the coronavirus pandemic. |
| Italy | Since March 2020, all music gigs and live tours in Italy have been canceled or postponed due to the impact of the coronavirus outbreak. Estimates from April 2020 reveal that the live music sector is expected to lose about 350 million € from the start of the lockdown until the end of summer 2020. As of the same period, services related to the music industry could lose 600 million €. Moreover, it is forecasted that in 2020 revenues generated by royalties, and sale of physical music will drop by 200 million and 100 million €, respectively. |
| Netherlands | The Metropolitan opera expects to lose approximately 55 million € in revenue by the end of March. |
| New Zealand | In the first 48 hours since the 'I Lost My Gig NZ' survey was created, there were around 300 submissions with a total of approximately $3.2 million (~2.9 million €) noted in lost revenue. |
| United Kingdom | In the UK, so far, a nation-wide quarantine has resulted in over £50 million (~57 million €) in lost revenues for artists and managers. That includes at least £3.1m lost by music managers in commissions. |
| United States | The economic impact of the Covid-19 pandemic on the arts and culture industry across the U.S. has mounted to $4.5 billion (~4 billion €), according to a survey by the nonprofit Americans for the Arts. |
The numbers are staggering, but, it's at the micro level that we can really feel the impact of the crisis. Superstars aside, most musicians are actually much more vulnerable than people in other professions, many young musicians risk seeing their personal and professional development damaged and face the real prospect of long-term unemployment within their industry.

A lack of sufficient government intervention will have a severe impact on music education, practice and infrastructure worldwide and the impact of the crisis could be devastating both financially and psychologically. The uncertainty of what music, and the arts in general, will look like once the crisis is over, doesn't help.
All is not lost though. We have found some truly inspirational stories of how governments, corporations, music labels, musicians and the world in general are rallying in the face of some of these mega-challenges. We hope to bring you more in the coming weeks and months that lie ahead as we continue to ask ourselves "What can music do?"


Government action and new approaches to funding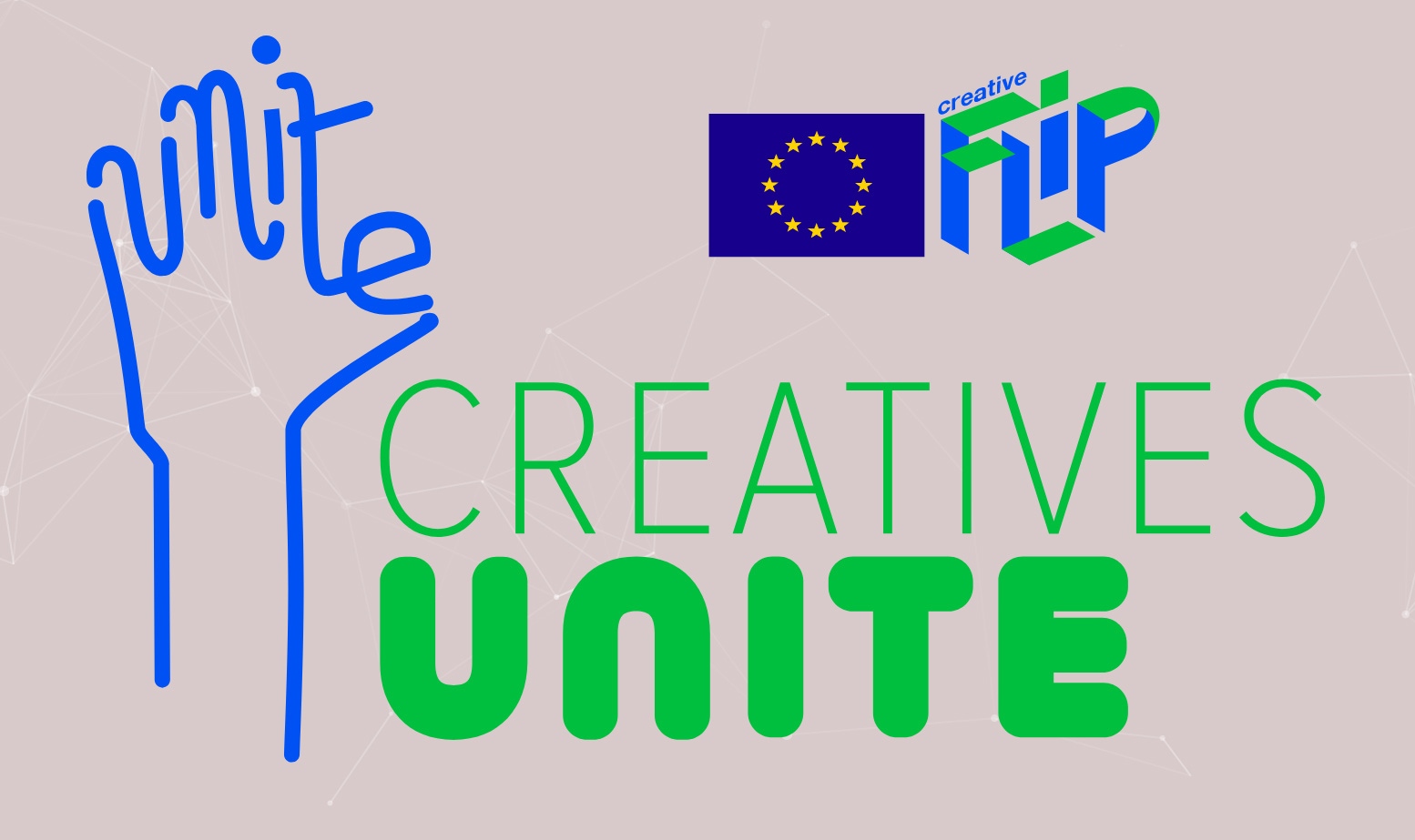 Creatives Unite: Cultural sector information sharing portal

EU Commissioner Mariya Gabriel, recently launched "Creatives Unite". An online platform offering a common space for all those looking for information about Creative and Cultural Sector initiatives and funding in response to the coronavirus crisis.
The German federal government recently announced a sweeping aid package for the country's creative and cultural sectors. According to a press release shared by the ministry of culture, €50 billion in backing will be provided specifically to small businesses and freelancers from the cultural, creative, and media sectors.
Danske Jazz-, Beat- go Folkemusik Autorer (DJBFA) has published a guide featuring help for the cultural industry in Denmark. Businesses and self-employed persons can get up to 75% coverage of their personal or employee's wages.
We've also seen alternative solutions from governments unable to put more robust financial support in place:
The National Arts Centre of Canada teamed up with Facebook to offer artists a paid alternative to the livestreaming they're already doing. The Facebook-National Arts Centre Fund for Performing Artists pays $1,000 to each act for their livestream performances.
The Directorate-General for Culture in Indonesia launched a digital campaign prompting various artistic performances that are being live streamed or taped remotely from the homes of artists, and shown through the Directorate-General for Culture's YouTube channel "BudayaSaya". Most importantly, the artists and artisans providing the performances and online classes are receiving professional remuneration.
The Polish Ministry of Culture is promoting a special Patreon page for Polish artists so that they can be supported by the population during the time of COVID-19.
While governments struggle to intervene with sufficient measures, however, the music world has been making its own plans.

New ways of experiencing music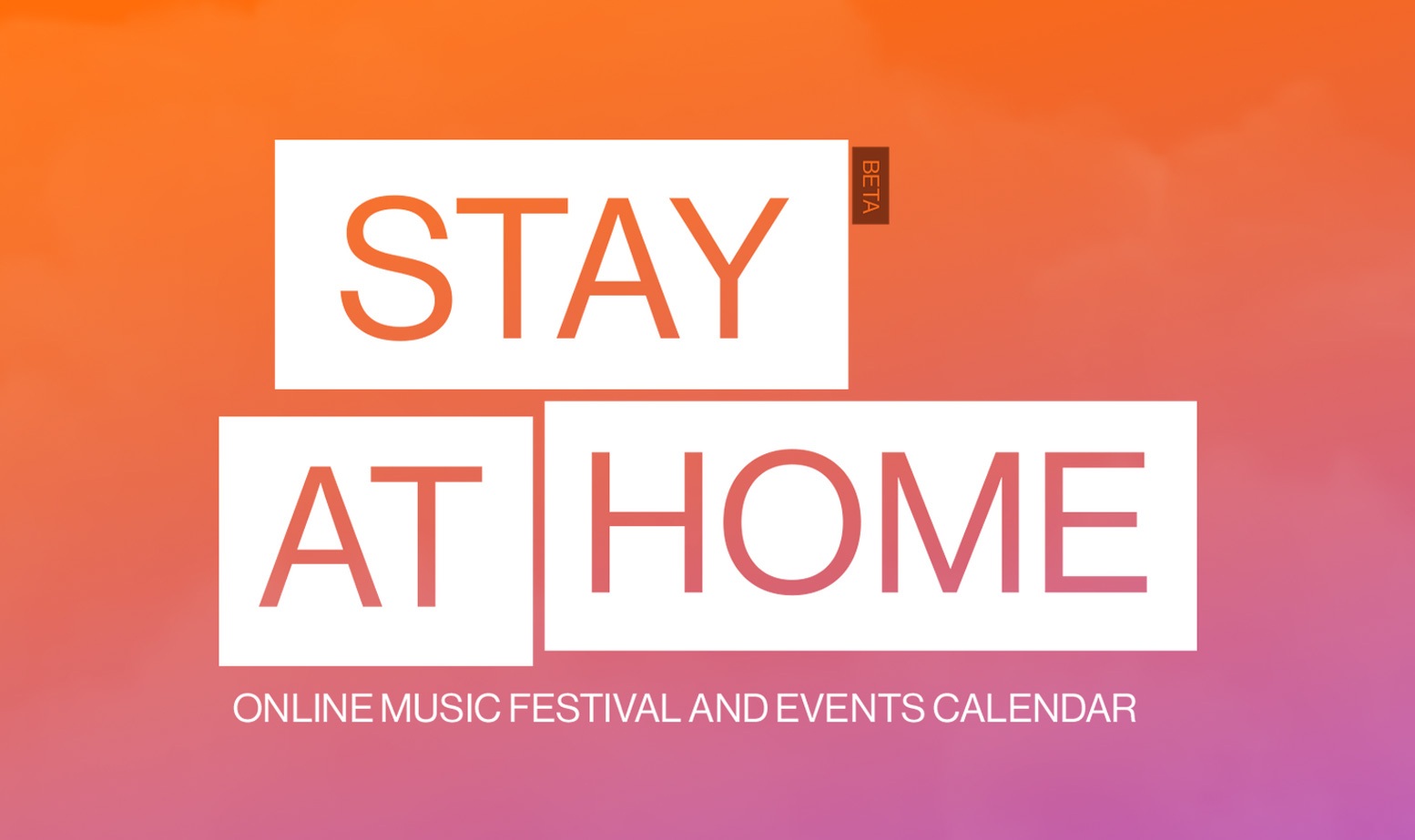 Stay at home fest: one of many new online music events initiatives

According to Forbes, Facebook's apps including WhatsApp, Instagram and Facebook, saw a 40% increase in usage from 18–34 year olds in the U.S. and in Italy all three of Facebook's apps have grown by 70% since the crisis started.
"In the absence of a more organized strategic approach and support for culture ... artists, organisations and audiences turned to what was available to them, to bridge the gap as much as possible - technology and digital media." - Blasko Smilevski, Executive Director: JM International

Musicians across the world are taking full advantage of the vast audiences that the social medias can offer them. In the words of Teen Vogue "The internet has become a free, virtual music festival..." The thought ends, however, saying that this is not very sustainable for an industry in crisis, or for fans desperate to feel the physical sensations of live music.

That said, we've seen the music industry, music institutions, artists and festivals responding with innovative solutions and partnerships to counter the lack of paid live concert opportunities. Here are some noteworthy examples from the music industry:

Fortnite gamers were treated to a meticulously executed world premiere of Travis Scott's new track 'Astronomical', complete with Travis Scott avatar. Multiple "tour dates" and showtimes were set up for players around the globe. The numbers were astronomical too. According to Epic, 12.3 million players participated in the April 23 concert and 27.7 million experienced it 45.8 million times across the five events.






Travis Scott and Fortnite Present: Astronomical





The Gardens of Babylon hosted a 900+ person Zoom DJ set.
K-Pop group Super M's Beyond The Future concert was broadcast live on April 26 from an empty Seoul arena via new platform Beyond LIVE. A collaboration between Korea's SM Entertainment and tech giant Naver, the platform combines AR technology, 3D graphics augmented in real-time and a variety of virtual, colorful backdrops with live digital fan interaction.





Beyond LIVE: Live Concert Platform

The good news is that online engagement isn't all about big budget super-productions either:
This brings us to our last finding:

Music is helping us, as human beings and communities,
to weather the crisis.
New Yorkers sing from their windows during coronavirus lockdown

We've seen multiple viral videos of musicians from Italy to New York City performing in balcony concerts and singing in unison to entertain each other and bring their communities together. Why? Jessica Grahn, Anna-Katharina Bauer and Anna Zamm say that being in sync with others is important for many kinds of human behaviour. They state that music creates this 'interpersonal synchrony' and "links our minds and bodies, enhancing social cohesion, bonding and other positive outcomes."

Another trend, according to Rolling Stone, is that more people are learning to play music. They say sales of musical instruments and music gear are soaring with all indications being that many purchasers are beginners. The magazine also reports that since social distancing began, distribution platforms that cater to unsigned acts are seeing huge surges in activity. Not only is music connecting us, but we are also turning to music to fill our time.

So while the world is in turmoil and the outlook is uncertain, we do know one thing, that music is an integral part of its future. Because #musiccan.


We leave you with the words of JM International President Jessie Westenholz,

"If a change is to come from this strange episode, the change will be in the hands of the youth. And the best way to give them the strength and the power needed is to give them Music!"

Join the conversation! Share your thoughts on the future of music with us in the comments section below or on social media - just remember to include #musiccan.

Interested in some of these?