Ethno – Year-End Wrap Up
Now JMI's Ethno program is in 40 countries across all six continents
What a year it has been! Ethno has grown steadily, with new members Hungary and Ghana joining the 38 countries already running the Ethno program, and with interest from around ten other countries, JMI's Ethno program promises to reach 50 countries in the next year, or two!

In 2021, Ethno organizers tried to proactively overcome the challenges posed by the Covid-19 pandemic by hosting more in-country diversity (New Zealand, Estonia), and hosting more online activities (Lebanon) and hybrid events. Chile debuted a new 'OnLive' Ethno format that allowed for global participation in select workshops while local participants performed the concert and everyone collaborated on song videos. You can see the published videos here and here.
❊

❊
Ethno also moved toward hosting hybrid events. The third Ethno OAT (Organizers Annual Training) was hosted in Brussels with both in-person and Zoom attendees (called Roomers and Zoomers respectively). Thirty-three Ethno organizers from 22 countries attended in person and 21 organizers from 15 countries joined the 3rd Ethno OAT via Zoom.
And the EthnoFest — the thirty-year celebrations of Ethno — took place both live in Brussels and live on YouTube! With four hybrid events held this year, It looks like they are here to stay!
❊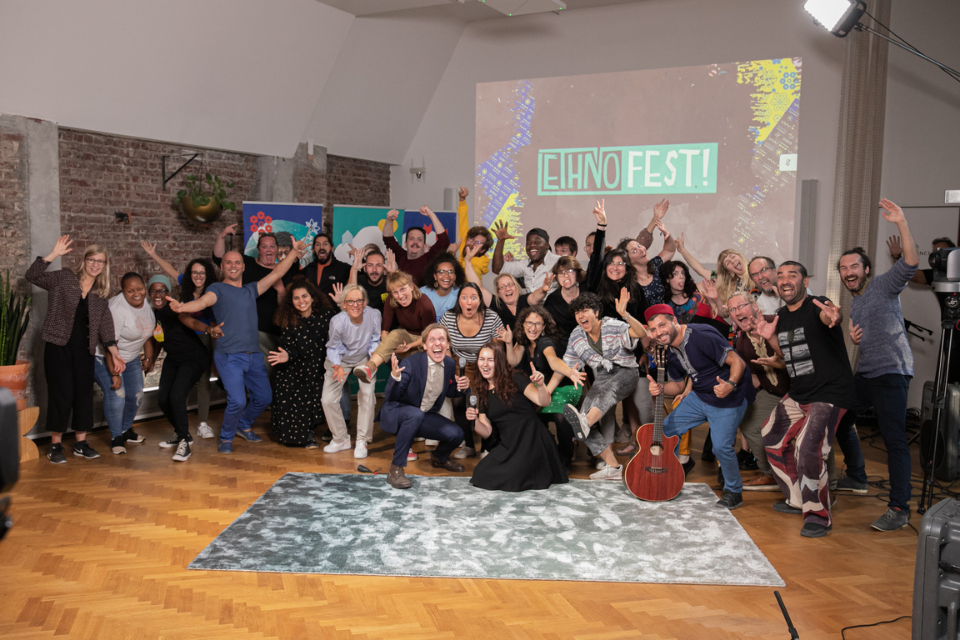 ❊
Ultimately, most Ethno events could be held. Of the fifty Ethno events planned for 2021, thirty-three took place, eight were postponed and nine had to be cancelled. Ethno was therefore able to have two-thirds of its events take place! Eighteen percent of those were either online or used hybrid formats. And this year, Ethno established itself on all six continents with the successful launch of Ethno USA!
❊

❊
WHAT's NEXT
In 2022, look out for Mobility opportunities — the Ethno Mobility 2022 application call has just been launched, plus new Ethnos in the Balkan and Euro-Med region are expected to be announced.
You'll find the latest Ethno news and events on the website www.ethno.world.
Photo credits
Cover + Ethno USA: John Gallant
Ethno OAT + EthnoFest: Jonathan Pourchet
Interested in some of these?