Music Crossroads 2018 Highlights
Some achievements for the Music Crossroads Academies program in 2018
In Malawi, Zimbabwe and Mozambique, Music Crossroads has been making a difference through music in 2018
MC MALAWI

Graduation
This year, 70 student's graduated at the Music Crossroads Academy in Malawi. 28 students graduated with professional music certificates, 33 students graduated with Level A1 and A2 in music pedagogy, where certifications targeting teachers from 16 primary schools in Lilongwe and the last 10 students graduate with certificate in computer literacy.
The Academy offers courses in programs that include music theory, sound technology and production, instruments including drums, guitar, keyboard/piano, voice, bass guitar and violin.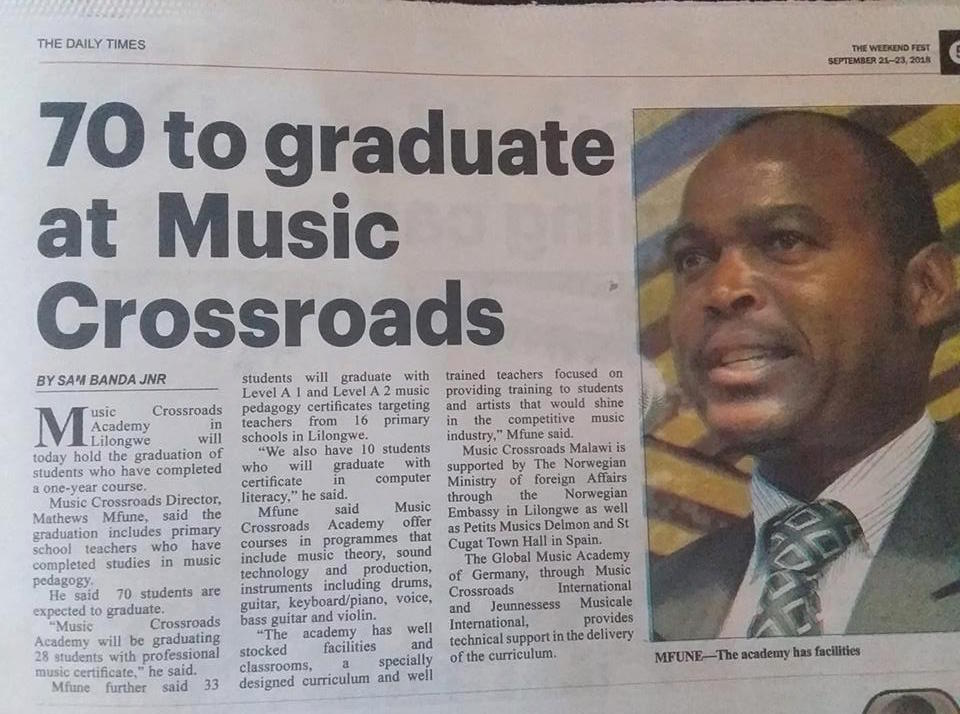 Malawi Folk Song Project
Music Crossroads Malawi in partnership with Malawi National Commission for Unesco, Rei Foundation of New Zealand and the Malawi National Library Service is carrying out a project on collecting, documenting and publishing in audio, video and book formats Malawi's folk songs. So far, the project has collected more than 750 songs from the central, Northern and Southern regions of Malawi. The aim of the project is to make available and accessible to musicians, students, teachers and the public local, musical materials for usage by musical institutions and public schools for education purposes.
Ethno Malawi
The academy has rebranded the 'Pakhonde Ethno Music Camp' to Ethno Malawi, an annual international music camp, a JMI global program of the Ethno Music Programme. A total of 40 musicians participated in the camp with musicians coming from Mozambique, Brazil and Norway. Participants experienced dances and played the African Violin Kaligo, mbira and drums rhythms. The results of the camp were showcased with a closing concert Also, two Academy students from the 2018 class have been given the opportunity to attend Ethno Sweden. Their participation at the international scene exposed them to international networks and platforms.
MC MOZAMBIQUE
MCA Mozambique nominated in Social
In 2018 MC Mozambique has been included in the annual book of Social, as one of the pioneering organisations that aims to increase the impact and visibility of social activities carried out by organisations and businesses in Mozambique. Social is a Mozambican organisation focused on promoting communicating of creative solutions to social issues in Mozambique. On 29 June donors, diplomats, national and international NGOs attended the launch event of the yearbook at the BCI Auditorium in Maputo. One of the event's unforgettable performances came from Nikolas Goza, a former student of the Academy and the country's up-and-coming musicians, who moved the guests with his original compositions.
LOUD
This year MC Mozambique is preparing for its 3rd edition of the LOUD camp - Girls Music Camp – counting on women's empowerment workshops on November 2018. The camp provides an opportunity to young girls to discuss and express themselves through music in a safe and supportive space. This year the camp ends with a showcase concert with the participation of several female artists.
Master Class
In April, 15 MCA students were invited to participate in a Master class on improvisation by Camillo Lombard, a well-known producer and musician from South Africa. Camillo started his own music school, Cape Music Institute, which has grown and now prepares students for admission to the University of Capetown Music Department. MCA students showed interest by visiting his school and exchanging experiences with his students. The academy hopes to enhance this collaboration in the future, with student exchanges and other activities.
MC ZIMBABWE
Graduation
At the Music Crossroads Academy in Zimbabwe a total of 61 students graduated, with 12 getting book prizes.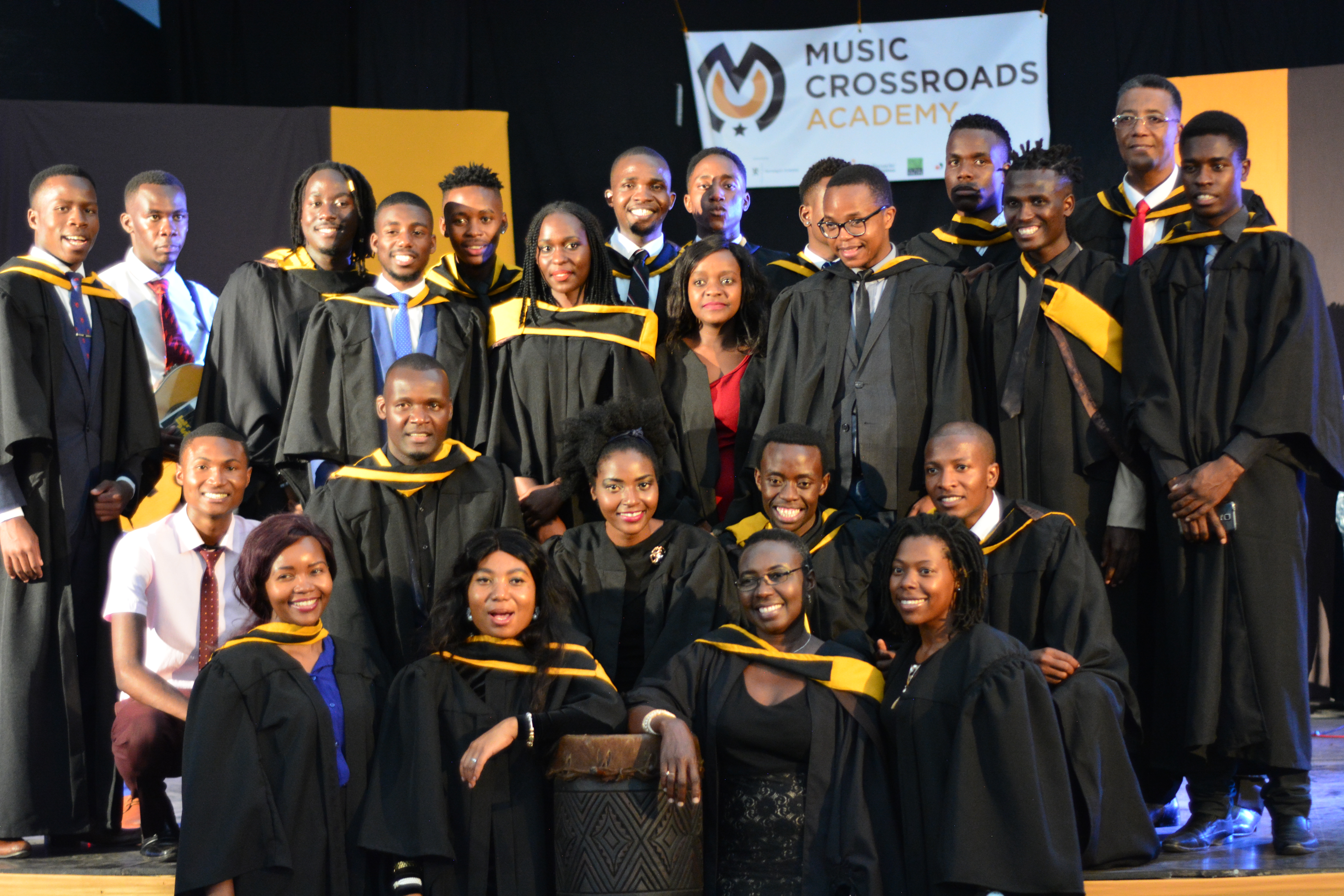 Documenting the drum culture

The Academy has started a new cultural heritage project, in partnership with the German ministry and the Global Music Academy, which is called "Documenting the drum culture of Chieweshe and the Sungura and Mbira guitar styles". These music styles that a unique part of Zimbabwe's cultural heritage, have been made available for future generations by documenting them on video and making transcriptions captured in books. The documentation aims to be an educational material for the students that will allow them to approach their traditions and preserve the cultural heritage. The inauguration ceremony was hosted at academy on the 19th October, and had over 100 people in the audience.
Will McNicol
Will McNicol a UK guitarist, held a workshop at our Academy and introduce to our students many techniques theoretical skills.
The students of the Academy learned how to create music based on animal's sounds such as butterflies or frogs, put them on a stave and then create a melody based on this sound. This couldn't be possible without Will McNicol's workshop with guitar improvisation, harmonics, looping, jazz and more. Will highlighted that 'natural talent without music education isn't enough to be a professional musician'.
Interested in some of these?